Best Knowledge Base Software
Best knowledge base software: What to look for
Does it provide rich functionality out of the box or is it going to require expensive and time-consuming programming and customization?
Does it offer end-to-end capabilities required for knowledge base creation and management or does it address only a small part, requiring the purchase of and integration with other products?
Does it integrate out of the box with leading systems of record such as CRM, ERP, and ECM or does it require integration work?
Does it include proven best practices?
Does it offer client references, who have experienced business value with speed and scale?
Does it offer a no-fee, no-risk way of trying it out?
Types of knowledge base software providers
Broadly, knowledge base providers fall in these categories depending on their functions.
Best-in-class knowledge base software providers
CRM vendors
Content management vendors
Point product providers
Conversational platforms
Brochureware providers
The best knowledge base software forms an integral part of a knowledge management system.
The software includes comprehensive features that support the creation, maintenance, and distribution of multilingual and multichannel knowledge.
It provides easy access to answers through multiple search methods to users — customers, contact center agents, frontline staff, even business stakeholders.
The enterprise knowledge base ensures that your customers are getting, and the business is delivering, timely, consistent, accurate knowledge across channels and touchpoints.
eGain Knowledge Base is an award-winning knowledge base software that when used improves staff training time, average handle time, and first-contact resolution rate.
The IRS demonstrates at KMWorld Connect 2021 how eGain transformed tax season
2. CRM vendors
A CRM system or a customer relationship management software stores data related to the life cycle of the consumer in its knowledge base. It keeps a record of the customer's omnichannel interactions, sales transactions, service requests, various contacts, social profile data, and other relevant information. A CRM software is extremely useful for tracking requests, logging calls and contact details, and tracking service SLAs. In customer service, its main use is in providing relevant customer history and information to resolve a customer service issue.
3. Content management vendors
Content management vendors claim to serve all your customer service knowledge needs from their platform. But do they? A content management system (CMS) enables the creation, publishing, and storing of content – documents, HTML pages, and other types of content. It includes features that enable version tracking, workflows, approval processes, and collaboration. It provides a cost‐effective way to create, classify, and organize information, a common business need.
What the content base doesn't do well is improve findability of answers at the time of need. They don't provide compliant, contextual, and timely knowledge when a customer or an agent is looking for answers. This issue affects both employee and customer experience.
4. Point product providers
Point product providers position themselves as inexpensive and easy to use… till they have to create customizations for every new need your business may have. Vendors that only provide a knowledge base end up creating silos of knowledge. They ruin the customer experience because they are not connected with channels and other customer engagement apps. Integrating them with your other customer service solutions is also a time and money consuming affair.
5. Conversational platforms
There are big ticket vendors that promise the world with their conversational AI platforms. Only to later reveal that they need heavy customizations, which are tedious and costly, to fulfill what the business requires. How mature are these vendors? Which generation of AI tech are they working with? Is it actually "intelligent" and understands intent?
6. Brochureware providers
Beware of the strictly feature providers. Today's consumers are digital and omnichannel. They are also impatient. A knowledge base that does not provide appropriate ways to access knowledge or is not smart enough to federate content to find the right answer or cannot guide consumers through a dialog to what they need is a waste of your money and time, and harms brand value.
Why use knowledge base software
Customer need: A knowledge base portal that improves self-service experience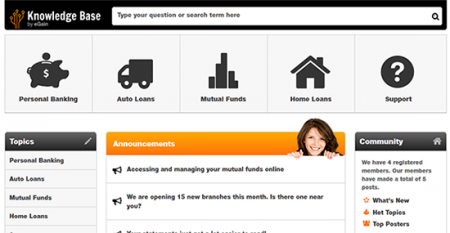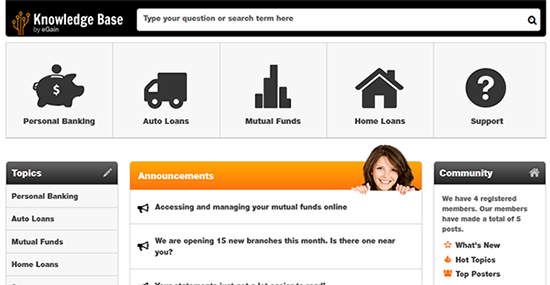 Your website is the first stop for answers when customers have problems. If they can find the right resolutions to their customer service issues, easily, over their channel of choice, it improves customer experience. If they can't, they defect. An effective knowledge base portal for customer self-service, powered by a comprehensive knowledge base, is critical to achieving higher satisfaction ratings, retention, and advocacy.
Agent need: Omnichannel knowledge access to enable all agents to handle all calls
When knowledge isn't stored properly or easily accessible, it makes contact center agent-advisors inefficient and lose confidence. In some companies that eGain eventually worked with, agents used to switch between a dozen different windows and systems to find the right information to give during a customer interaction. Customer service provided in this manner is inconsistent, inaccurate, and only as good as the agent who's delivering it. Consumers have complained about the lack of knowledge among agents in a Forrester survey. Effective knowledge management ensures that agents have the tools to create and deliver the right knowledge easily for superior customer experiences.
The best knowledge base software: Needs addressed!
eGain Knowledge Base software is an award-winning KB software tool that supports the easy creation, maintenance, and distribution of multilingual and multichannel knowledge. It provides users — customers, contact center agents, frontline staff, even business stakeholders — easy access to answers through multiple search methods. The enterprise knowledge base ensures that your customers are getting, and the business is delivering, timely, consistent, accurate knowledge across channels and touchpoints.
Customers self-serve: Customers can self-serve on your website. Satisfied with the experience, they even tweet an appreciation post or follow you on Instagram! They don't call in to the contact center with an escalation unless absolutely necessary. This dramatically reduces operational costs for the contact center.
Agents know the answer: Agents feel empowered to handle any customer service question – as customers resolve easier issues through self-service, advisors are increasingly getting complex queries. This easy findability of answers from the knowledge base makes agents more productive and happy. It also reduces onboarding time significantly, saving millions for the organization.
FAQ
You can define the criteria for displaying articles based on various article properties such as hot topics, most popular, newly added, recently changed, specific dynamic search criteria, announcements, etc.

Dynamic FAQ lists consider the history of KB usage and presents the user with most articles sorted based on the ranking calculation within a topic or subtopic.
Browse knowledge base
The browse folders feature is another way of allowing end users to access the knowledge base.

The browse hierarchical tree feature is one of several ways of allowing users to access the knowledge base. The tree can be expanded by clicking to reveal all the subtopics contained in the tree.
Search knowledge base
Search for articles using the keywords contained in the article or meta fields.
Search for articles using the phrases contained in the article or meta fields.
Search for articles matching specific article properties like author, date, topic .
Search for articles within specific topics or subtopics.
Guidance knowledge base
AI-powered conversational and process guidance for customers and agents.
Embeddable in systems of record such as CRM and contact center infrastructure.
Knowledge base analytics
Actionable analytics on knowledge base scope, relevance, guidance, and performance.
---
Knowledge base software: Use-case press releases
Knowledge base software success stories
Global bank knowledge-powers every agent-advisor to handle every call
The eGain knowledge base becomes "the enabler" for this bank's customer service and contact center transformation. It enables the impossible—makes any agent any call a reality, and takes the bank to #1 NPS rating among peers in its market.
Telecom operator delivers consistent knowledge across contact center and stores
BT (EE), a leading mobile network operator, reveals how the eGain knowledge base became fundamental to its customer service transformation in the UK. Results include:
First-Contact Resolution up by 37%
NPS up 20%
Training time down 43%
Agent speed to competency up 50%
Industry recognition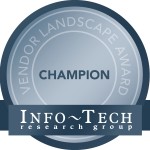 "eGain, a vendor with the best-of-breed knowledgebase and search, excellent workflow resolution tools, and an innovative approach to social and collaboration."
Tim Hickernell, Vendor Landscape: Customer Service Knowledge Management Suites, Info-Tech Research Group
"eGain's recent announcement of an intelligent search platform … has given it best of breed status within knowledge management, incident tracking, multichannel management, and enterprise search."
John Ragsdale, VP of Research
---
Knowledge base software: Related content