60%
deflection of customer emails through successful web self-service for a wholesale club operator
79%
customers of a telecom company find answers on the company website with eGain SelfService
88%
inquiries from students and staff of an exam board are resolved through self-service on the website
Distinctive, brand-aligned web self-service improves customer experience
One size doesn't fit all in web self-service! The same approach to self-service will not work for every type of customer, every type of inquiry, or every stage of the customer life cycle.
eGain SelfService+AI enables organizations to provide distinctive, productive, and brand-aligned self-service experiences that enable breakthrough improvements in customer self-service effectiveness and adoption, while allowing seamless, context-aware escalations to live customer service or sales agents.CONTACT US
Powered by the patented eGain Multisearch knowledge access technology, innovative user interfaces such as brand-aligned avatar chatbots and UI templates, eGain SelfService+AI brings together the power of the industry's broadest set of knowledge access methods, federated search, process intelligence, multilingual capabilities and flexible look and feel—all behind a single search box—for distinctive, on-target self-service. The only solution proven in the cloud or on-site for over a decade, eGain SelfService is an integral part of the eGain Customer Engagement Hub (CEH) suite, enabling full-context escalation of self-service interactions to assisted interactions.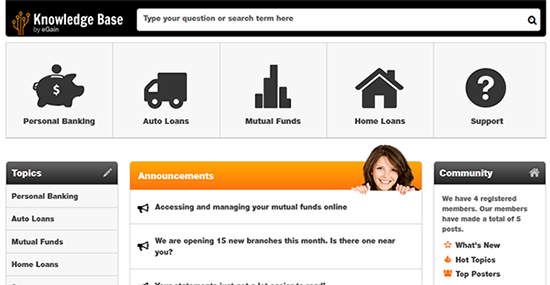 "New enterprise search features, combined with its knowledge
management and multichannel suite, make eGain a must-have
vendor for enterprise short lists."
John Ragsdale, VP of Research, Technology Services Industry Association
FEATURES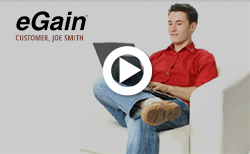 Search
Keyword and intent-based search Natural language search with optional avatar interface
Topic tree browsing Guided help, powered by patented Case-Based Reasoning (CBR)
Content federation from across website, contact center, enterprise, community, and social content
All access methods behind a single search box Relevance-ranked presentation of search results
Distinctive Self-Service
Innovative online self-service experiences, including brand-aligned avatar interfaces and context-aware escalations to assisted service
Flexible templates that match the look and feel of self-service pages to the rest of the web site and the brand
Contextual widgets for the desktop, webtop, and mobile devices
Ability to hop across search methods to find the answer (for instance, from topic-tree browsing to artificial intelligence-enabled guided help)