Best Customer Service Software: Leaders Trust eGain
The Need
Your customers don't differentiate between channels when they contact you and neither should you
Customers want easy experiences. They want you to value their time. When they interact with your business, they want their problem to be solved as quickly and easily as possible. And the best customer service software solution will help your business support your customers the way they want, across channels and touchpoints.
Your customer service system should be equipped with the right tools, best practice guidance, and depth of platform that allow you to provide effective, efficient, anywhere, anytime customer service your consumers demand.
Customer service gives competitive advantage
When product and price stop being the differentiators, great customer service experience remains the only competitive advantage for businesses.
Delivering great customer service experience needs great customer service software solutions. eGain Suite uses the latest technologies of AI, machine learning, reasoning, and analytics to provide customers 24/7 support and agents the tools they require to deliver that support.
The Solution
Ensure that your website is ready for customer service
Customers complain of inadequate information on self-service websites. This forces them to call your contact center leading to customer frustration and increased costs for the business.
Solution: Self-service your customers want
Offer your customers digital self-service that is as smart as them, on mobile and Web.
Provide relevant, contextual knowledge on your website.
Give them multiple access methods (including AI guidance) to find the right answer, offering them the ease of choice.
Enable automated assistance through virtual assistants or chatbots. The chatbot should have deep knowledge of your domain and guide visitors through a tour of the website.
Most crucially, allow seamless, context-aware escalation from self-service to assisted channels like email, chat, or voice.
If possible, have a DIY knowledge base portal builder that will get your self-service website up and running in no time.
---
Ensure your customer service agents can access the right answer at the right time
Customers complain that your customer service contact center agents aren't able to provide the right answers to their service questions.
Solution: AI Knowledge for accurate answers and process guidance
Turn your contact center agents into advisors. Empower them with knowledge.
Ensure that the knowledge management system is embedded with Artificial Intelligence that provides agents with process and decision-making guidance.
Allow multimodal access—search, browse, FAQ, topic tree browsing, Artificial Intelligence-based guided help—to the knowledge base. Agents can choose the access method to use according to their need and expertise.
Ensure that the knowledge provided is compliant, updated, accurate, and consistent across channels.
Enable a multilingual knowledge base from the same system if you have a global customer base.
---
Ensure you are available to assist in real time
Customers like self-service, but want assistance when they are stuck.
Solution: Timely intervention through chat, video, click-to-call, cobrowsing
Offer live chat or click to talk assistance at those points in a customer journey where customers are known to get stuck. Timely intervention has been proven to dramatically improve customer experiences and increase sales.
Combine the chat and voice channels with cobrowsing where customer can benefit from personalized handholding, such as during an online insurance onboarding process.
Solution: Contextual offers
Set business rules and configure offers for proactive chat, content, or marketing offers at the time of need.
Offer management with A/B testing so that you can optimize offers for maximum output.
---
Ensure that the customer service channels aren't working in silos
Customers complain that they have to be the glue in the service conversation.
Solution: Customer engagement hub platform
A customer engagement hub platform unifies context, knowledge, and analytics for all channels in your customer service organization. This enables a 360-degree view of the customer and ensures customer service that is connected and effective. This will delight your customers and accrue benefits to the business.
Use data adapters to integrate your customer service solution with the other systems—data, CRM, legacy—in your business, to be able to leverage them to provide the best service.
Offer a blended desktop to your advisors for maximum efficiency.
---
Enable proactive customer service
Wow customers by being proactive in your interaction.
Solution: Analytics
Data and analytics provide insights into customer behavior and service gaps.
Get reports on gaps in knowledge usage, and trend in customer queries.
Use actionable data from the solution to predict customer requirements and push timely information proactively to deflect incoming traffic and enhance customer satisfaction.
Solution: Proactive notifications
Know your customer's favored channels of communication and send notifications and alerts about product updates, renewals, offers, etc.
This is also a unique opportunity to push sales from the customer service platform by upselling and cross-selling.
---
Resource
TRAITS OF A BUSINESS AND IT-FRIENDLY CUSTOMER SERVICE SOFTWARE
---
Leaders trust eGain with their customers' service experiences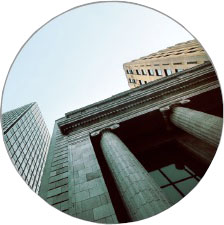 US federal agency saves millions with knowledge guided customer service. The agency oversees healthcare, financial services, and benefits administration for its membership, which is several million strong.

"eGain understood our business and the specific requirements of telecoms customer service. This is critical as we enter the next phase of our eCare strategy, where we plan to introduce innovations such as mobile care and social media services."

"It is our goal to be the best water company in the UK and to achieve this we need to differentiate ourselves by being the leaders in customer service. We will continue to work with eGain to provide innovative customer service options and further improve customer experience."