State of the Art in Chat and Cobrowse
Web chat continues to experience explosive adoption, driven by generational preferences, growth of the web as a business channel, and proven ROI based on improved customer satisfaction and sales conversion. A consumer survey by Forrester showed that cobrowse and chat lead other interaction methods by 24–31% in customer satisfaction ratings by channel, with cobrowse being the highest at 78%.
This article discusses the state of the art in chat and cobrowse, and the importance of taking a unified multichannel approach to enable seamless customer journeys across these and other communication channels.
State of the art in chat
Video chat
When it comes to establishing trust with customers, there's nothing like in-person help at the neighborhood agent's office.
While text chat with a contact center agent does not offer this level of high-touch experience, video chat can help.
With best-of-breed technologies such as those from eGain, customers can engage in one-way (customer sees agent) or two-way video chat. Moreover, eGain Chat™ provides a unified experience across text and video chat, allowing the customer to switch to video mode if she chooses to do so. Video chat is proving to be especially relevant to industries such as insurance, where consumers can show damage to automobiles or other property to the claims specialist through video, avoiding a long trip to the specialist's branch office. Likewise, video chat assists in troubleshooting complex problems in some industries such as consumer electronics and medical devices.
Proactive offers (Proactive chat and more)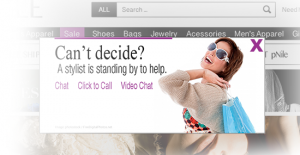 Chat began with reactive text chat, providing links for customers to initiate conversations with an agent. Over time, businesses started offering chat in a more proactive manner to further improve sales and service—proactive chat 1.0. At the same time, partially due to the limitations of most proactive chat technologies and partially in an attempt to sell aggressively, many businesses wound up literally stalking customers with proactive chat, driving them out of the website in the process.
An intelligent approach to customer engagement, proactive chat included, takes into account customer channel preferences, website behavior, past purchases, where customers are in their journey, and what their intent might be, in order to make the right offer at the right time. And it goes beyond proactive chat and includes other contextual offers such as content and coupon offers in addition to self-service and assisted service options.
With eGain Offers™, businesses can make a variety of relevant offers across the customer journey. Here are some examples:
Marketing content when the consumer is researching on the website
Coupons when the consumer is comparing alternatives or trying to decide whether to even make a purchase
Chat and cobrowse help when the consumer is having trouble with an online form or the shopping cart in order to close the sale
Troubleshooting information when the consumer is trying to fix a problem after the purchase
Additionally, eGain Offers also offers comprehensive analytics, easy configuration and A/B testing, to help ecommerce managers quickly iterate and deploy offers at warp speed without IT's involvement. This is a win-win for customers and the business!
Chatbot 2.0 
Chatbots are a great way to engage website visitors. Also called automated chat, virtual agents, avatars, concierges, virtual assistants, and digital virtual assistants, a chatbot is a great tool to deflect phone calls, create distinctive customer experiences and build brands. Chatbots can understand natural language, answer questions of low to medium complexity, provide website tours, and push relevant web pages to the customer.
Generational preferences and the popularity of Siri have revitalized chatbot adoption especially in B2C customer service. eGain Virtual Assistant™ is a next-generation chatbot—one could call it chatbot 2.0. It is multilingual, mobile, and social, and can interact with consumers in multiple modes, including text-to-text, text-to-speech, speech-to-text, and speech-to-speech. Unlike other chatbot technologies, eGain Virtual Assistant can also transition a customer to a human chat agent with full context so that the agent can move the conversation forward without asking the customer to repeat information. Perhaps it is chatbot 3.0!
State of the art in cobrowse
When it comes to cobrowse, there are many pretenders and there's one real thing, namely, eGain Cobrowse™. Here are the pretenders exposed:
Page pushing
Page pushing allows sales and service agents to push web links or force the customer's browser to visit a particular page. However, page pushing isn't two-way collaboration—it is a one-way information push by the agent to the customer.
Screen sharing
While screen sharing might work for software demos and group brainstorming, it's not a true two-way collaboration tool. The contact center agent takes control of the customer's desktop, screen updates are slow, and moreover, field-level privacy is not even an option—the agent will see all the customer data. Worse, consumers are very leery of allowing downloads and letting an agent take control of their computer or device. While it might be useful in some situations, screen sharing has experienced limited adoption as a collaboration tool for the above reasons.
True cobrowse
eGain Cobrowse is the real thing and offers true cobrowsing! Here's why:
Peer-to-peer cobrowsing: eGain Cobrowse allows either party to control navigation, share cursor location, and collaborate actively on both sides.
Collaborative form-filling: eGain Cobrowse offers true collaboration for form-filling and other online transactions enabling both users to simultaneously enter and edit information while preserving data privacy. Rules can be applied to prevent agents from viewing the customer's personal information or entering data into fields (such as loan amount) that would commit the customer to unwanted outcomes. An extra layer of protection may be added by preventing agents from submitting forms on the customer's behalf.
No downloads required by the customer.
Moreover, unlike other cobrowse tools, eGain Cobrowse enables seamless customer journeys across cobrowse and other interaction channels.
State of the art at work
eGain clients are already leveraging best of chat and cobrowse to transform customer experience, provide memorable real-time service, and increase sales. Here are some examples:
A large affinity group insurance provider deployed eGain Chat and eGain Cobrowse to hundreds of pages on its website and to over 7000 agents in its new member, banking, and financial advisor groups. Within just a few months, web sales conversion increased from 25% to 75% for new member acquisition and current member onboarding!
A financial services giant with hundreds of dedicated customer investment specialists was able to offload inbound phone calls to chat using eGain Chat and eGain Cobrowse, reducing wait times from 12 minutes to 35 seconds and recovering 7 times their investment.
A health insurance giant deployed eGain Chat, eGain Cobrowse, and eGain ClickToCall™ on its website, integrating customer interactions with CRM and recovering $2.6 million within twelve weeks.
A telecom leader experiencing over 100% growth in web traffic selected eGain Chat, eGain Cobrowse, eGain Knowledge+AI™, and eGain Mail™ to provide online assistance as well as knowledge-powered guided help, while bringing together its customer experiences on chat, phone, email, and web. It achieved an 80% first contact resolution and 95% service level compliance, while realizing $10 million in savings over the first nine months after the eGain implementation.