50%
decrease in training time of new financial agents with eGain's knowledge management system
67%
cut in Average Handle Time seen in a bank when agents used eGain's knowledge base software
30%
improvement in First Contact Resolution (FCR) for a technology giant
The Need: Knowledge base software that meets customer service expectations
For Customers: Knowledge base portal improves customer's self-service experience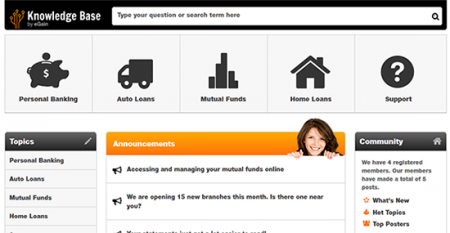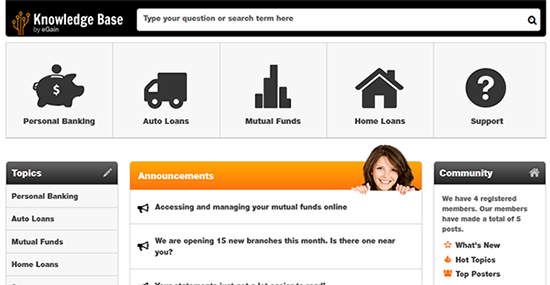 Your website is the first stop for answers when customers have problems. If they can find the right resolutions to their customer service issues, easily, over their channel of choice, it improves customer experiences. If they can't, they defect. An effective customer self-service knowledge base portal, therefore, is critical to achieving higher satisfaction ratings, retention, and advocacy.
For Agents: Omnichannel knowledge access enables all agents to handle all calls
When knowledge isn't stored properly or easily accessible, it makes contact center agent-advisors inefficient and lose confidence. In some companies that eGain eventually worked with, agents used to switch between a dozen different windows and systems to find the right information to give during a customer interaction. Customer service provided in this manner is inconsistent, inaccurate, and only as good as the agent that's delivering it. Effective knowledge management ensures that agents have the tools to create and deliver the right knowledge easily for superior customer experiences.
The Answer: Industry's best knowledge base software
The eGain knowledge base or the eGain KB is a centralized repository of knowledge in your enterprise.
The software supports the creation, maintenance, and distribution of multilingual and multichannel knowledge, and provides users — customers and contact center agents — easy and multimodal access to answers. The KB ensures that your business is delivering timely, consistent, accurate knowledge across channels and touchpoints.
This in turn enables your customers to self-serve themselves on your website and dramatically reduce escalations into contact centers. Advisors feel empowered to handle any questions they receive from customers – as customers resolve easier issues through self-service, advisors are increasingly getting complex customer service queries – and are consequently more productive and happier. This also reduces onboarding times significantly, saving millions for the organization.
The eGain Knowledge Base is an integral part of eGain Knowledge + AI, eGain's awarded knowledge management software. It lets you provide intranet or extranet access to the centralized knowledge base. Agents, other employees and even partners can view FAQ, or browse through and search the knowledge base.
FAQ
You can define the criteria for displaying articles based on various article properties such as hot topics, most popular, newly added, recently changed, specific dynamic search criteria, announcements, etc.

Dynamic FAQ lists consider the history of KB usage and presents the user with most articles sorted based on the ranking calculation within a topic or subtopic.
Browse knowledge base
The browse folders feature is another way of allowing end users to access the knowledge base.

The browse hierarchical tree feature is one of several ways of allowing users to access the knowledge base. The tree can be expanded by clicking to reveal all the subtopics contained in the tree.
Search knowledge base
Search for articles using the keywords contained in the article or meta fields.
Search for articles using the phrases contained in the article or meta fields.
Search for articles matching specific article properties like author, date, topic etc.
Search for articles within specific topics or subtopics
---
Success stories
Global bank knowledge-powers every agent-advisor to handle every call
The eGain knowledge base becomes "the enabler" for this bank's customer service and contact center transformation. It enables the impossible, i.e., makes any agent any call a reality, and takes the bank to #1 NPS rating among peers in its market.
Telecom delivers consistent knowledge across contact center and stores
EE-BT, a leading mobile network operator reveals how the eGain knowledge base became fundamental to its customer service transformation in the UK. Results include:
First-Contact Resolution up by 37%
NPS up 20%
Training time down 43%
Agent speed to competency up 50%
Video: How eGain knowledge base improves training time is a "scary" story
Hear it from our knowledge base expert.
Experts on the best-of-breed knowledge base software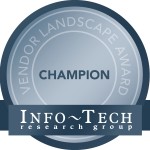 "eGain, a vendor with the best-of-breed knowledgebase and search, excellent workflow resolution tools, and an innovative approach to social and collaboration."
Tim Hickernell, Vendor Landscape: Customer Service Knowledge Management Suites, Info-Tech Research Group
"eGain's recent announcement of an intelligent search platform … has given it best of breed status within knowledge management, incident tracking, multichannel management, and enterprise search."
John Ragsdale, VP of Research