In 2025, superior customer service is expected to be trusted, effortless and personalized while translating directly into
better ROI and business outcomes.
This analysis by Gartner is as true today as it will be in 2025.
In a path breaking research, CEB (now a part of Gartner) found that reducing customer effort increased chance of repurchase by 94% and of money spent by 88%. And for the business, lower customer effort equaled 37% lower customer service cost.
Solve to Reduce Customer Effort, Improve Experience
eGain Knowledge Hub offers a comprehensive set of applications to enable customers and agents to find the information they need, quickly and effortlessly.
Offer knowledge everywhere
Make proactive, personalized knowledge available wherever you want – through portals and APIs. Brand, configure, and personalize the portals according to need.
Resolve issues through self-service or agent assistance
The virtual assistant or the website is usually the starting point for customer service. When self-service is insufficient, seamless escalation to agent assistance with full context ensures that customers are never left hanging.
Guide customers to the finish line with AI and ML
Issues that reach agents are complex. Conversational automation, determination of intent, and guidance through dialogs ensure that customers get to ànd agents guide them to the one right answer or next best step in the process.
The guided help feature set eGain apart from other vendors.

Digital Channels Program Manager, Financial Services company
Plug in dots to create a single source of truth
The omnichannel knowledge base is the single source of truth for all channels and touchpoints. It can pull in data from integrated third-party content systems to help resolve every customer service issue.
Analyze to optimize customer experience
Measure, manage and optimize operation and experience with end-to-end analytics – from the questions being asked to the resolutions being given, the reason for escalation from self-service to the gaps in knowledge.
Solve With Knowledge
eGain Virtual Assistant
Automate conversations
Conversational AI for customer interactions
Front messaging channels to determine intent and triage and route queries
Pull relevant information from the knowledge base and external data systems
Guide conversations through dialogs to reach a solution

eGain SelfService + AI
Self-serve through knowledge base portals
Brand-aligned customer self-service portal
Access to the knowledge base in multiple ways
AI-powered guidance through processes and to the right answer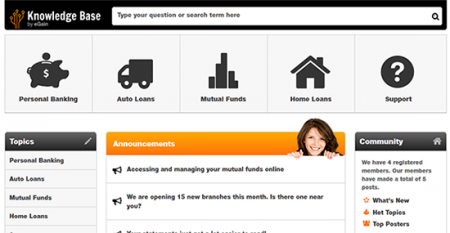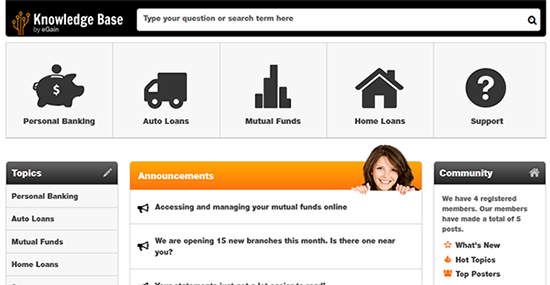 eGain Knowledge + AI
Guide advisors and staff to resolution
Easy access to knowledge from the eGain agent desktop

Knowledge from the central knowledge base, external data systems, and out of the box integrations with CRM systems like Salesforce, Microsoft Dynamics, ServiceNow

Proactive, contextual knowledge offered to agents in the middle of an interaction
AI-powered guidance through dialogs to reach a solution – whether the next best step in a process or an answer
Content authoring with global controls and flexible workflow

Successful nurturing of customer relationships requires insightful, relevant and timely communications across multiple channels (…) and over a host of traditional and new devices.
(Gartner, Delivering Relevant Content and Knowledge to Customers Is Key to Great Customer Service)